Discovering the Charm of Famous Places in Dubai: A Fusion of Modernity and Tradition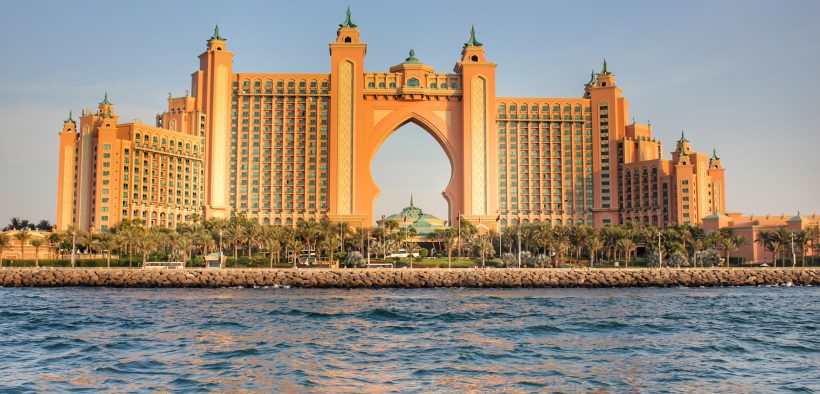 Dubai, a city known for its opulence and grandeur, is a captivating destination that seamlessly blends modernity with rich cultural heritage. From towering skyscrapers to ancient neighborhoods, Dubai boasts a plethora of famous places that leave visitors in awe. Let's embark on a journey to uncover the charm and allure of these renowned destinations that make Dubai a truly remarkable city.
Burj Khalifa – The Iconic Landmark
Standing tall as the tallest building in the world, the Burj Khalifa is a symbol of Dubai's ambition and architectural prowess. Soaring over the city's skyline, this iconic structure offers panoramic views from its observation decks on the 124th and 148th floors. Marvel at the breathtaking vistas of the city, the Arabian Gulf, and the surrounding desert. The Burj Khalifa is a must-visit destination that showcases Dubai's determination to reach new heights.
Palm Jumeirah – A Marvel of Engineering
A man-made wonder, Palm Jumeirah is an island in the shape of a palm tree, extending into the Arabian Gulf. This iconic landmark is home to luxurious resorts, stunning residential properties, and a vibrant community. Take a leisurely stroll along the Palm's promenade, indulge in world-class dining experiences, or relax on pristine beaches overlooking the turquoise waters. Palm Jumeirah represents Dubai's ambition to create extraordinary destinations that redefine the concept of luxury.
Dubai Marina – Exquisite Waterfront Living
Dubai Marina is a dazzling waterfront district that combines stunning architecture, world-class dining, and vibrant nightlife. Stroll along the marina's promenade and admire the luxurious yachts and towering skyscrapers that line the water's edge. Enjoy a meal at one of the waterfront restaurants, explore the upscale boutiques, or embark on a yacht cruise to witness the skyline from a different perspective. Dubai Marina is a bustling hub of activity that epitomizes Dubai's modern and cosmopolitan charm.
Al Fahidi Historic District – A Glimpse of the Past
Step back in time and visit the Al Fahidi Historic District, also known as Bastakiya. This well-preserved neighborhood provides a glimpse into Dubai's past, with its narrow winding lanes, traditional wind towers, and historic buildings. Explore the art galleries, visit the Dubai Museum housed in the 18th-century Al Fahidi Fort, and immerse yourself in the rich heritage and cultural traditions of the city. Al Fahidi Historic District is a testament to Dubai's commitment to preserving its historical roots.
Dubai Mall – Retail Therapy and Entertainment
The Dubai Mall, a world-renowned shopping destination, offers much more than just retail therapy. With over 1,200 stores, it is a shopper's paradise, showcasing a vast array of international brands and luxury boutiques. Additionally, the mall features entertainment attractions like the Dubai Aquarium & Underwater Zoo, the VR Park, and the captivating Dubai Fountain. Indulge in a mix of shopping, dining, and entertainment at this expansive complex that caters to every taste and preference.
Atlantis, The Palm – Extravagance and Adventure
Located on the Palm Jumeirah, Atlantis, The Palm is a magnificent resort that promises a world of extravagance and adventure. With luxurious accommodations, exquisite dining options, and thrilling water and marine experiences, Atlantis, The Palm is a destination in itself. Dive into the vibrant underwater world at The Lost Chambers Aquarium, make a splash at Aquaventure Waterpark, or relax on the pristine private beach. This iconic resort showcases Dubai's ability to create unparalleled experiences that cater to the desires of every traveler.
Jumeirah Beach – Serenity and Recreation
Jumeirah Beach is a pristine stretch of golden sand that offers a perfect blend of relaxation and recreation. Bask in the warm sun, swim in the crystal-clear waters, or indulge in various water sports activities such as jet skiing, paddleboarding, or banana boat rides. The beach is also lined with beachfront resorts, beach clubs, and restaurants, providing a serene escape from the bustling city. Jumeirah Beach is a testament to Dubai's commitment to providing exceptional leisure experiences.
Dubai Opera – Cultural Extravaganza
Dubai Opera is a stunning architectural masterpiece that hosts a diverse range of world-class performances, including opera, ballet, theater, and concerts. Located in Downtown Dubai, this iconic venue is known for its impressive design and acoustics, offering a captivating experience for art and culture enthusiasts. Immerse yourself in the enchanting world of performing arts and witness mesmerizing performances that showcase Dubai's cultural vibrancy.
Global Village – A Cultural Melting Pot
Global Village is a multicultural extravaganza that brings together the diverse cultures of the world. This vibrant outdoor destination features pavilions representing different countries, offering a glimpse into their traditions, arts, crafts, and culinary delights. Explore the lively marketplaces, watch entertaining shows, and indulge in mouthwatering street food from around the globe. Global Village highlights Dubai's commitment to fostering cultural exchange and celebrating diversity.
Dubai Creek – Heritage and Tradition
Dubai Creek is a historic waterway that divides the city into the traditional districts of Deira and Bur Dubai. Embark on a traditional abra boat ride across the creek, passing by the bustling souks and historic landmarks. Visit the Spice Souk and Gold Souk, where you can immerse yourself in the aromatic scents and glittering treasures. Dubai Creek offers a glimpse into Dubai's humble beginnings as a trading port and its rich heritage.
Dubai is a city of juxtapositions, seamlessly blending modernity with tradition. Its famous places epitomize the city's ambition, innovation, and commitment to providing unforgettable experiences. From towering skyscrapers to ancient neighborhoods, from luxurious resorts to vibrant cultural hubs, Dubai's famous places have something to offer every traveler.